All you need to know about deepfakes and why they are dangerous
Deepfakes are taking over the internet. They hold the power of manipulation and can fool or influence large groups of people. Additionally, they are tools of great destruction. Here's all about them and how you can spot them. What are deepfakes? You've probably seen videos of Mark Zuckerberg brag about having 'control on billions of […]
Deepfakes are taking over the internet. They hold the power of manipulation and can fool or influence large groups of people. Additionally, they are tools of great destruction. Here's all about them and how you can spot them.
What are deepfakes?
You've probably seen videos of Mark Zuckerberg brag about having 'control on billions of people's stollen data'. Or that of Barak Obama calling Donald Trump a 'complete dipshit'. Well, they are both deepfakes or synthetic manipulation. Deepfakes use deep learning, a form of AI to make images and videos or voice notes of fake events. This is what people use to put words in movie star's or politician's mouths or even make someone dance.
"This technology can be used to undermine the reputation of a political candidate by making the candidate appear to say or do things that never actually occurred. They are a powerful new tool for those who might want to use misinformation to influence an election," said John Villasenor. Villasenor is a nonresident senior fellow of studies in governance at the Center for Technology innovation in Brookings Institution. Evidently, such technology is creating a new set of challenging policies, legal issues and, technology.
But, how does it work?
Deepfakes use deep learning technology to create counterfeits from analysis of videos and photographs of the target from many angles. It then mimics the person's speech and behavior patterns. "Once a preliminary fake has been produced, a method known as GANs, or generative adversarial networks, makes it more believable. The GANs process seeks to detect flaws in the forgery. This is leading to improvements addressing the flaws," explained Paul Barret, an adjunct professor of law from New York University. It takes multiple rounds of improvement and detection to complete a deepfake video.
The GANs did not just create the problem, it can also make it much worse. Hence, it is a perfect weapon for makers of fake news. Those who wish to manipulate anything, from news and elections to the price of stocks!
How can you spot a deepfake?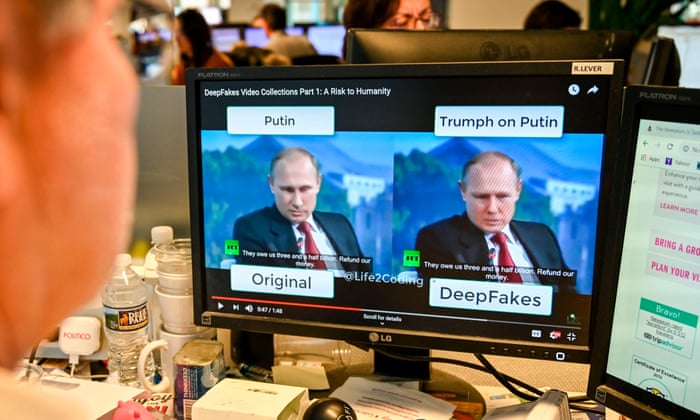 Spotting deepfakes are harder than ever with the advancement of technology. In 2018, researchers from Cornell University found that people in a deepfake video have abnormal blinking. This is because since most images have open eyes, it is difficult for an algorithm to learn how people blink. However, after the reveal of this weakness, they improved it. Here are some easy ways to sport them-
Unnatural facial expressions
Misalignment and blurring on the edges of an image, person, or body parts
Unnatural body movement
Position of awkward facial features
Unnatural coloring of skin, eyes, or lighting
No or low emotions
Videos that look unnatural when they are slowed down
Unnatural looking teeth
Hair that does not look real
Inconsistent noises and audio
Hashtag discrepancies
Digital fingerprints
Awkward body posture
Reverse image searches
With the rise in such content that spreads like wildfire, it is important to know how not to become their prey. Moreover, it is always best to be skeptical about any video that you see on the internet, being careful about opening suspicious links or sending funds to unknown sources.
This article All you need to know about deepfakes and why they are dangerous appeared first on BreezyScroll.
Read more on BreezyScroll.
Related Topics