ZEE shows always highlight one love and hate relationship that keeps us glued to our seats. We cannot disagree that we love seeing Mahira-Preeta's ugly spat or Aliya plotting against Pragya. With these ugly rivalries comes some evil masterplans and one of these includes poisoning food. In an attempt to kill our favourite ZEE leads, several villains have tried poisoning their food. Check out some of these evil incidents in the shows.
Ramona poisons Sarla's laddoos
During the Karwa Chauth celebration at the Luthra house, Sarla makes some laddoos for all the ladies. However, Ramona poisons the laddoos in order to humiliate Preeta (Shraddha Arya) and ruin her celebration with Karan. Later, Sherlyn (Ruhi Chaturvedi) gets Sarla (Supriya Shukla) arrested for the same.
Mahira poisons Preeta's dessert
Mahira (Swati Kapoor) gets frustrated when she is not able to celebrate Karwa Chauth with Karan (Dheeraj Dhoopar). Out of frustration, she decides to kill Preeta and poisons her dessert for the same. She sneaks into the kitchen and poisons Preeta's kheer.
Sherlyn mixes rat poison in food
During Sherlyn-Rishabh's  (Manit Joura) engagement party, she mixes rat poison in the food being prepared for engagement. Sherlyn later blames Preeta for poisoning the food but Karan proves her innocence.
Tanu mix a pill in Pragya's juice
When Pragya (Sriti Jha) was pregnant and Tanu (Leena Jumani) was obsessing over Abhi (Shabir Ahluwalia), she decides to kill their unborn baby. Tanu mixes a pill in Pragya's juice to terminate her pregnancy. But Pragya gets to know about it and she slaps Tanu while asking her to leave the house.
Rhea poisons food on the anniversary
Rhea (now Pooja Banerjee) mixes poison in the food during the anniversary celebration and blames Prachi (Mugdha Chaphekar for the same. But Abhi sees the CCTV footage and finds Rhea as the culprit. He then scolds Rhea for her wrongdoing.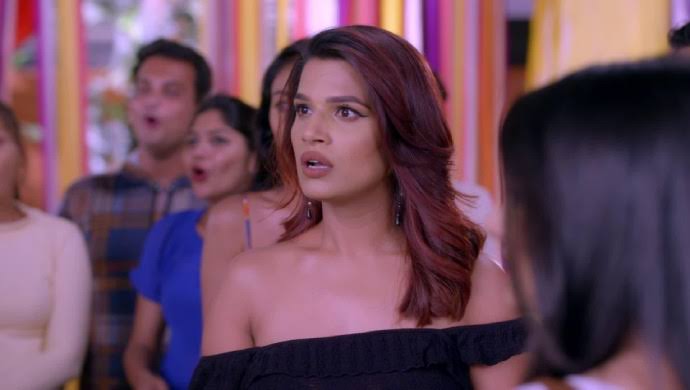 Kalyani replacing sauce bottle with rat poison
Kalyani (Reem Shaikh) gets furious with Anupriya (Poorva Gokhale) when she assumes that she wants to kill her. Anupriya cooks food for Kalyani but the latter accuses her of poisoning. To prove her innocence, Anupriya eats the food and faints and Kalyani feels miserable.
Antara poisons Guddan's Gajar Halwa
Guddan (Kanika Mann) challenges Antara (Dalljiet Kaur) to throw her out of the house in 24 hours. Antara gets frustrated and decided to kill Guddan's baby. Antara then decides to spike Guddan's Gajar ka Halwa by tricking Dadi and Lakshmi.
For more entertainment news, visit ZEE5.
સંબંધિત વિષયો