Money Heist Season 4 recap: All your questions answered before season 5
Netflix's La Casa de Papel/Money Heist will premiere its fifth and final season on Friday, September 3. The two-part series finale, according to creator Lex Pina, will be the most intense yet. But we're still not done with season 4. La Casa de Papel/Money Heist Season 4 Finale finished on a massive cliffhanger. The robbers […]
Netflix's La Casa de Papel/Money Heist will premiere its fifth and final season on Friday, September 3. The two-part series finale, according to creator Lex Pina, will be the most intense yet. But we're still not done with season 4. La Casa de Papel/Money Heist Season 4 Finale finished on a massive cliffhanger.
The robbers use Gandía to helicopter Raquel/Lisbon into the Bank of Spain, still shaken by Nairobi's death. After Inspector Alicia implicates her entire department during a press conference over Ro's torture, the police issue a warrant for her arrest. She also discovers out where the Professor is hiding while she's on the run. She says, "Checkmate," and fires a single shot before the season ends.
But the game isn't yet over. Before the new season premieres, here's a recap of Season 4. Also, some of the most pressing final concerns that we hope will be resolved sooner rather than later.
What unfolded in season 4 of Money Heist?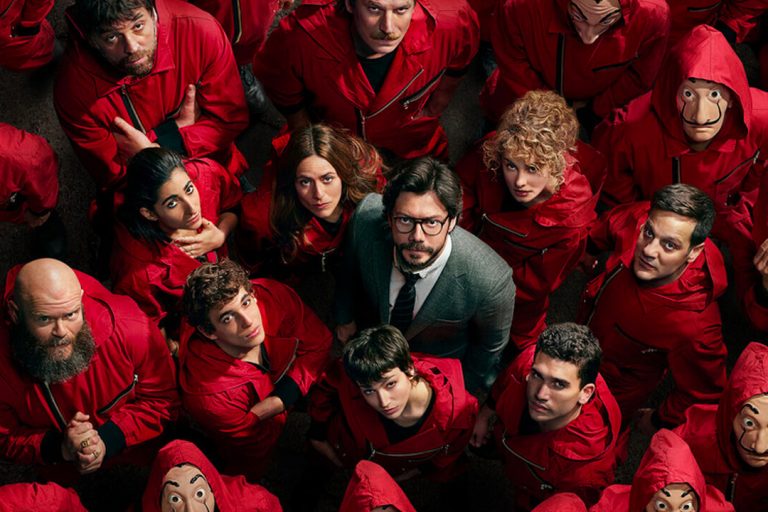 Season 4 continued where Season 3 left off. Nairobi (Alba Flores) has just been shot on Alicia's (Najwa Nimri) orders. The thieves are hurrying her to safety to carry out her mission. Despite losing their feed to an outside surgeon, Tokyo (Ursula Corberó) saves Nairobi's life by successfully removing the bullet and a portion of her lung. However, the operation coincides with a command move from Palermo (Rodrigo de la Serna) to Tokyo, which he does not appreciate. He tries to flee the bank but Helsinki (Darko Peri) stops him and ties him up with the captives. Palermo is the one who sets the seed for Gandía (José Manuel Poga), the security chief and ex-combatant, to dislocate his thumb to break free from the handcuffs. He tries everything he can once he's free to foil the scheme, including attempting to kill the robbers.
Marsella (Luka Pero) saves the Professor (Alvaro Morte) from a police chase in the woods. This is where he believes he overheard Raquel/(Itziar Lisbon's Ituo) death. But the two subsequently acknowledge it was a hoax. Also, she is being probed outside the Bank of Spain in a police tent. Officer Benito Antoanzas (Antonio Romero) is persuaded to provide them with information. It aids them in formulating a plan to reunite Lisbon with the criminals.
For the thieves, things aren't looking good. Relationships are being put to the test as emotions run high. Mónica/Stockholm (Esther Acebo) ends her relationship with Denver (Jaime Lorente) after witnessing him lose his cool. Both Tokyo and Denver are envious of Mónica and Ro (Miguel Herrán) being so close. Palermo continues to make fun of Helsinki and his love for him. And when Arturo (Enrique Arce) tries to launch another rebellion among the hostages, Julia/Manila (Belén Cuesta) shoots him in the leg.
"Plan Pars"
In episode 8, "Plan Pars," everything comes to a head. Alicia decides to bring her entire department with her after Colonel Luis Tamayo (Fernando Cayo) urges her to take the blame for leaked emails organizing Ro's torture. She realizes Antoanzas is a mole as she recalls her negotiation. She searches for the Professor herself using the security tapes from his residence.
Meanwhile, the Professor is enlisting help to free Lisbon from a police van. It is transporting her to court to testify. Marsella can fly on a helicopter that the police believe is being used to extract Gandía. But is actually in use to reunite Lisbon with the thieves. Thanks to Gandía, who the thieves finally capture and force to work with them. They recommit to the plan on the inside. "Por Nairobi!" they exclaim. "For Nairobi."
Alicia discovers the Professor's refuge and holds him at gunpoint; just as the gang thinks they've reached a fork in the road. There's no way of knowing what she'll do. But a season 5 peek depicts the professor in shackles; telling the gang that this could be the last time they hear from him.
Nairobi died in season 4
Yes. Gandía repeatedly targets Nairobi after Tokyo and the thieves go to tremendous measures to safeguard her life. In episode 6, he shoots her in the head. It was after making it appear as though he would hand her over in exchange for his freedom. Nairobi is reunited with other people from the series who have died in a heartbreaking dreamlike sequence: Oslo, Moscow, and Berlin.
Nairobi's death elicited a wide range of sentiments from fans. They are very sad on the one hand. Nairobi was the center of not only the gang of criminals but the entire spectacle.
Others are angry that the program chose to kill Nairobi after going to such lengths to save her. "Imagine getting shot in the chest, hand, and tied up to a door…only to end up dying from a bullet to her head," as one Reddit user put it. "The end [of] her character is so cruel to me."
Pina hints at the prospect of spinoff series, one of which could be in Nairobi. However, we'll probably see Nairobi through flashbacks in Season 5 shortly. On her IMDB page, Flores has credit for the first episode.
Will the Professor die after being found by Alicia?
Alicia seemed like a wild card when the season 4 finale first aired. She may use the Professor to negotiate her own investigation, or she could switch allegiances to exact revenge on her department in a dramatic twist. Alicia appears to want vengeance in the opening episode of Season 5, but against the Professor himself, according to the teaser.
Have we seen the last of Gandía in the Money Heist Season 4 Finale?
The answer is no, based on the season 5 trailer. After Gandía assassinates Nairobi, Denver pursues him and fires a grenade into the toilet where he is hiding, wounding him and allowing the thieves to apprehend him later. In the end, he tries to flee once more, but Bogotá (Hovik Keuchkerian) allows his feelings for Nairobi to get the better of him—the two were just beginning to fall in love—and strikes Gandía unconscious. After that, we didn't see his body, leading us to believe he was dead. But not only do we see him in the teaser, but we also see him antagonizing Tokyo before she kicks him in the face.
What is going on with Arturo?
We have no idea, to be honest. Since he entered the Bank of Spain in season 3, he has been pestering the criminals, and in season 4, he sexually abuses a bank employee named Amanda. In the conclusion, he tries to lead a hostage rebellion. But Julia/Manila is the thief among the hostages to feed the gang intel. She shoots him in the leg.
He'll probably live because it's just a flesh injury. Fans, on the other hand, are unsure about his future position. It's unclear how Arturo's actions are going to advance the series, and it seems especially cruel that a toxic character like him should live while a beloved figure like Nairobi dies.
Will we finally meet Tatiana in season 5?
Berln's wife, Tatiana (played by Diana Gómez), was likely to a) return and b) maybe turn out to be Inspector Alicia in Season 4. (This is a far-fetched theory, but Alicia's late husband's name was Germán, and Berln isn't that far away.) Both theories, however, turned out to be false. The only time we see Tatiana is in a flashback from her wedding to Berln (Pedro Alonso) in episode 2, and it appears that season 5 will be more of the same.
Some fans, on the other hand, remain hopeful that they may be able to meet her soon. Tatiana, after all, was one of the few people who knew about the robberies at the Royal Mint and the Bank of Spain. We've met the others so far—Palermo, Bogotá, and Marsella—and it wouldn't be surprising if she returns.
This article Money Heist Season 4 recap: All your questions answered before season 5 appeared first on BreezyScroll.
Read more on BreezyScroll.
Related Topics